Expert UV Light Installation Products & Services for Air Sterilizing Benefits
in Fort Pierce, Port Saint Lucie, Stuart, Palm City, Jupiter, West Palm Beach, LaBelle,Fort Myers, Tavernier, Marathon FL & Surrounding Areas
Are you tired of worrying about your home's air quality and its impact on your health? With so many devices available that effectively eliminate particle pollutants, there's no excuse for not enjoying clean air around the clock in your home. Among the many indoor air quality systems we offer, our UV lights are some of the most popular. That's because they're highly effective at killing the contaminants that pass through your HVAC system. When you hire us to install a UV light in your air conditioner or heater, rest assured we provide customers with the best service experience possible.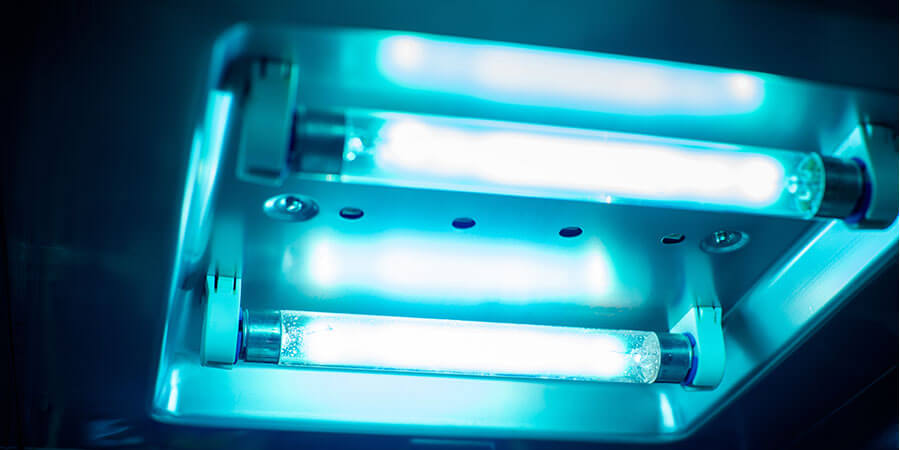 What's a UV Light?
Violet is the highest frequency of visible light. Ultraviolet means beyond violet, making UV light invisible to the human eye. Most of the UV light on Earth comes from the sun's rays. Luckily, the atmosphere absorbs most of it before it reaches and affects us.
There are three different wavelength bands of UV light – UV-A, UV-B and UV-C. The strongest and shortest wavelength of UV light is UV-C. It has the power to destroy microorganisms by scrambling their DNA, purifying food, air and water in the process. UV germicidal lights are the most effective at eliminating indoor contaminants.
UV Light Installations
UV lights help to drastically reduce allergens present in a home. When installed within your HVAC system's indoor air handler, a UV light will work to kill harmful microbes that pass through, including bacteria, microbial growth and allergens. UV lights prevent corrosion in your HVAC system, lowering the chances of experiencing refrigerant leaks and requiring costly repairs. The service technicians at Rocket Cooling specialize in completing UV light installations. We carry the newest makes and models of UV lights available, and we sell our products at the best prices in the area.
Invest in Rocket Cooling's Other IAQ Solutions
UV lights aren't the only IAQ solutions we carry and install. We also install air cleaners, like the Air Scrubber by Aerus, and perform duct cleaning service. We'll always dispatch background-checked and trusted service technicians to your home or business.
To learn more about UV lights or our other IAQ solutions, contact Rocket Cooling today.

Our Latest News
Ensure Comfort and Coolness this Fall with these AC Tips
September 24, 2023
Read More
Our service is out of this world
Call us for same day service or click to make an appointment
100% Satisfaction Guaranteed
Schedule an Appointment