Professional AC & Heat Pump Repair and Installation Service
in Fort Pierce, Port Saint Lucie, Stuart, Palm City, Jupiter, West Palm Beach, LaBelle,Fort Myers, Tavernier, Marathon FL & Surrounding Areas
Rocket Cooling offers out-of-this-world HVAC services that focus on providing customers with a pleasant experience. If you need a new air conditioner installation or an AC repair, let us handle the job.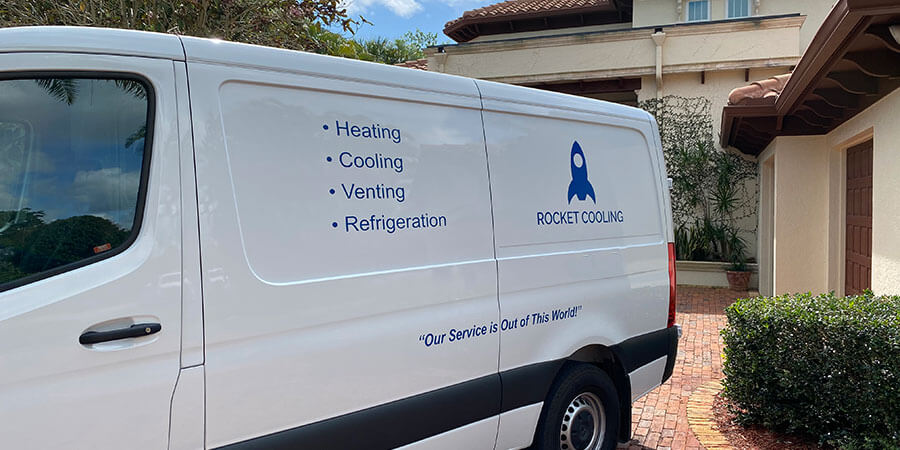 Air Conditioner Installations, Repairs and Maintenance
When you live in Florida, your air conditioner is one of your most used home comfort appliances. It operates for most months of the year, keeping you and your family comfortable during the hottest and most humid times. Rocket Cooling sells and installs the newest air conditioners available, helping you maximize cooling efficiency, minimize energy costs and enhance home comfort. We're your go-to AC service experts.
Heater Installations, Repairs and Maintenance
Heaters aren't as necessary in Florida as air conditioners, but you still need one to stay warm when an unusual cold front blows through the area. That's why Rocket Cooling offers heating installation, repair and maintenance services. When hire us to complete your heating service, rest assured we always dispatch a friendly service technician.
Heat Pump Installations, Repairs and Maintenance
Heat pumps are highly efficient HVAC systems that offer cooling and heating capabilities. Their heating feature works especially well in areas that experience mild winters. We provide free estimates for all our HVAC installations and repairs, including heat pumps.
Ductless Mini-Split Installations, Repairs and Maintenance
Are you adding a room to your home or converting a garage into a living space? The easiest and cheapest way to cool and heat it is to install a ductless mini-split. We can help you with a single- or multi-zone ductless HVAC installation. If your current mini-split isn't operating as it should, let us perform ductless repairs or maintenance to restore its efficacy. We stay updated on the latest procedures to keep your HVAC systems running well.
IAQ Services, Including Duct Cleaning and Sanitizing
Maintaining a healthy level of indoor air quality is vital to your family's well-being. Considering that you spend most of your time indoors, you must clean the air you're inhaling around the clock. Rocket Cooling offers all the IAQ solutions you need to ensure that happens, including UV lights, whole-home air cleaners and duct cleaning service.
Light Commercial HVAC Installations, Repairs and Maintenance
Rocket Cooling doesn't only help residential customers optimize their indoor climate control for comfort and efficiency. We also extend our HVAC services to commercial clients. We can help you with your light commercial HVAC installation, repair or maintenance service.
Commercial Refrigeration Installations, Repairs and Maintenance
If your business uses refrigeration in any capacity, you know how critical it is to your bottom line to keep it running well. Rocket Cooling specializes in commercial refrigeration installations, repairs and maintenance. We know how to work on all types of commercial refrigeration equipment, including coolers, freezers and ice machines.
Our Latest News
Ensure Comfort and Coolness this Fall with these AC Tips
September 24, 2023
Read More
Our service is out of this world
Call us for same day service or click to make an appointment
100% Satisfaction Guaranteed
Schedule an Appointment