Ductless Repair & Mini-Split Repair Services
in Fort Pierce, Port Saint Lucie, Stuart, Palm City, Jupiter, West Palm Beach, LaBelle,Fort Myers, Tavernier, Marathon FL & Surrounding Areas
Do you use a ductless air conditioner to cool a home addition or converted garage? Perhaps you use several mini-splits in a multi-zone ductless setup. No matter the case, rest assured the experienced, background-checked and trusted service technicians at Rocket Cooling knows how to complete high-quality ductless repairs in residential and commercial settings.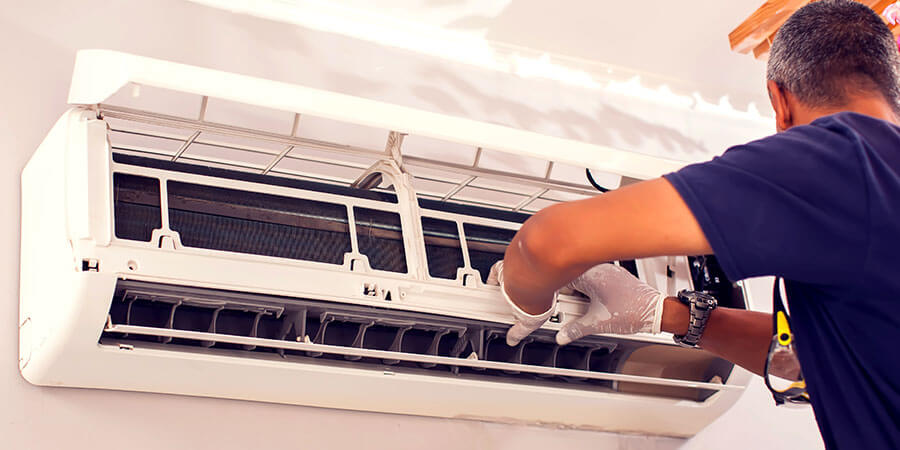 When Should You Schedule a Ductless AC Repair?
Don't ignore your ductless mini-split if it starts showing you signs of wear and tear that require repairs. Doing so will lead to further damage, resulting in higher energy and repair costs down the road. Contact us to schedule a ductless repair if you spot the following:
Ductless air conditioner is blowing warm air.

Ductless air conditioner cycles frequently every hour.

You hear loud noises coming from the ductless AC system.

You smell strange odors around the ductless AC system.

You notice pools of water near the ductless AC system.

Your energy costs are higher than usual without rate hikes.
Out-Of-This-World Ductless AC Repairs
Before calling us to schedule ductless repairs, check the filter and clean it if it has clogged. Also, make sure you've set the remote to the correct mode and setting. Remember that you should never attempt DIY HVAC repairs beyond a simple filter change. Doing so risks damage to your mini-split and even personal injury. Rocket Cooling is here to find and fix the issues plaguing your ductless air conditioner. Your comfort is our priority.
Customers Trust Rocket Cooling for Their Ductless AC Repairs
If your ductless HVAC system isn't functioning as it should, you'll want it repaired right away. When you call Rocket Cooling for the job, we'll work fast to come to your rescue and restore the comfort level inside your home. Here's why customers seek our help:
Offer 24/7 service in every location for an extra charge.

Foster a positive workplace so that our employees perform their best.

Provide free ductless air conditioning repair estimates.

Arrive in well-stocked trucks to minimize ductless AC repair times.

Stay updated on the latest ductless air conditioning repair practices.
Do you need a ductless AC repair? Contact Rocket Cooling to schedule your mini-split repair right away.
Our Latest News
Ensure Comfort and Coolness this Fall with these AC Tips
September 24, 2023
Read More
Our service is out of this world
Call us for same day service or click to make an appointment
100% Satisfaction Guaranteed
Schedule an Appointment