Providing Heating and Air Conditioning Services Including Installation, Repair and Maintenance
to Southwest Florida
---
When home and business owners need quality AC services in Southwest Florida, they turn to Rocket Cooling for help. That's because we provide our customers with the best service experience possible while offering the newest makes and models of HVAC equipment. Whether you need an air conditioning repair or AC installation, rest assured we'll handle the task with the utmost care and attention to detail. We'll dispatch a friendly service technician to your home or small business in Fort Myers and surrounding communities.
Communication is key to every job. We keep our customers alerted the second they book an appointment. We let you know when the technician is on their way, starting their job, completion, and at the end you can let us know how we are doing.
Special Financing Available
Are you looking for an HVAC company that sells state-of-the-art air conditioning systems and completes high-quality installations? Rocket Cooling offers a wide range of indoor climate control products at the best prices. Each includes a long-term parts and labor warranty for your peace of mind and protection. We foster a positive work environment so that our service technicians always give you their best.
---
Air Conditioning Repair and Installation
At Rocket Cooling, we believe fostering a positive work environment helps our service technicians perform better for our customers. When you entrust our team to complete your air conditioning repair, we'll arrive in well-stocked trucks to avoid wasting your time. We also offer AC installations for every property type and budget. When you invest in one of our air conditioners, you'll enjoy energy-efficient comfort and reduced cooling costs. Our products include long-term parts and labor warranties.
Indoor Air Quality Solutions for Homeowners
Cleaning the air inside your home is critical to your health and comfort. Rocket Cooling offers a range of solutions to help, including whole-home air cleaners, UV lights and duct sanitizing services. With our help, you'll reduce the number of particle pollutants found in your home's air supply and improve your quality of life.
Duct Cleaning Service
The ducts within your HVAC system, carry conditioned air and deliver it into your living spaces. Without regular cleaning, they will collect dust, dirt and other particle pollutants, inhibiting airflow and worsening indoor air quality. When you invest in our duct cleaning service, you'll ensure your ducts work efficiently.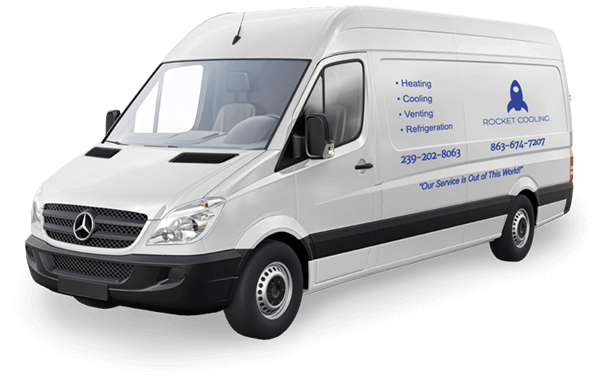 Speed to customer, there in hours not days
Background checked and trusted technicians
100% Satisfaction Guaranteed
Our service is out of this world
Call us for same day service or click to make an appointment
100% Satisfaction Guaranteed
Schedule an Appointment