Air Conditioning Repair & Installation Services
for Fort Myers
An air conditioner is an essential appliance when you live in Fort Myers, FL. It helps you stay comfortable during the most oppressive heat and humidity the area experiences during the spring, summer and autumn months. At Rocket Cooling, we understand how much air conditioning plays a part in helping your family enjoy a high quality of life. Our goal is to perform every air conditioning service to a high standard and your complete satisfaction. Whether you need an air conditioning installation or AC repair in Fort Myers, FL, we're here to make the process as smooth as possible.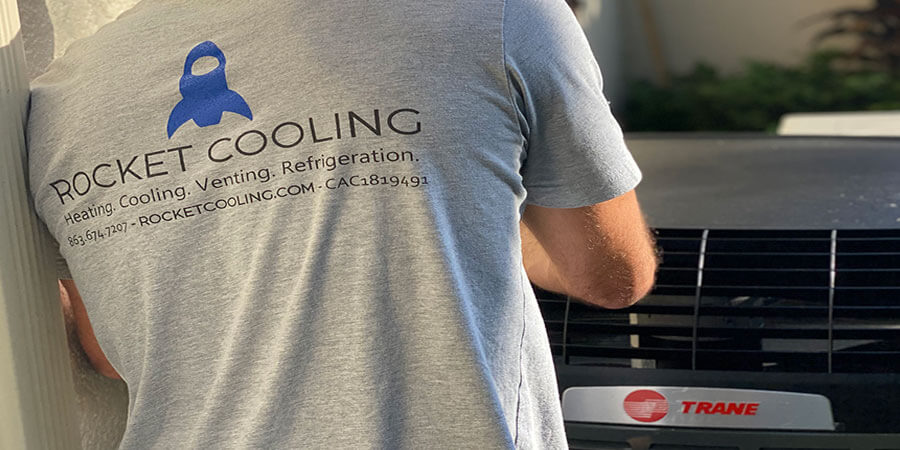 Emergency Air Conditioning Repair Experts in Fort Myers, FL
If your air conditioner starts malfunctioning, you'll worry about its condition, how much it'll cost to fix it and whether you'll need a replacement. We realize a broken AC system can induce stress and concern. That's why Rocket Cooling's service technicians are available around the clock to handle your air conditioning repair in Fort Myers, FL. Providing peace of mind is our priority. We'll arrive at your home or business promptly in a well-stocked truck, and we can complete most AC repairs in one visit.
Professional Air Conditioning Installation in Fort Myers, FL
Shopping for a new air conditioner isn't like picking the ripest banana in the bunch. It requires careful consideration that involves performing cooling load calculations. Installing an undersized or oversized AC system will lead to costly problems sooner rather than later. You also don't want to overpay for an air conditioner because it offers a higher efficiency rating than you need for your household. Rocket Cooling's service technicians can help match you with the right air conditioner for your unique cooling requirements. We carry the latest makes and models of ducted and ductless air conditioning systems.
Rocket Cooling Can Handle Your AC Service in Fort Myers, FL
An effective air conditioning installation or repair in Fort Myers, FL, starts with hiring the best HVAC contractor for the job. Here are some of the benefits of choosing us:
Provide an out-of-this-world air conditioning service experience.
All our air conditioners include long-term parts and labor warranties.
Dispatch educated NATE-certified service technicians for your AC service.
Offer 24/7 service in Fort Myers, FL, for an extra charge.
Offer free air conditioning installation, repair and maintenance estimates.
Follow cutting-edge procedures to help you maximize comfort and efficiency.
To schedule an air conditioning service in Fort Myers, FL, contact Rocket Cooling today. We foster a positive work environment, ensuring our employees enjoy serving you.
Our Latest News
Ensure Comfort and Coolness this Fall with these AC Tips
September 24, 2023
Read More
Our service is out of this world
Call us for same day service or click to make an appointment
100% Satisfaction Guaranteed
Schedule an Appointment