Mini-Split AC Services
for the Treasure Coast
Ductless air conditioning has gained popularity among homeowners in Treasure Coast, FL, in recent years. That's because ditching the ducts can help you save energy and money. Rocket Cooling would be happy to become your go-to ductless service expert. When customers hire us to install or repair their ductless mini-split AC system, we aim to provide them with the best service experience possible. That includes showing a friendly and positive can-do attitude while helping you meet all your home comfort goals.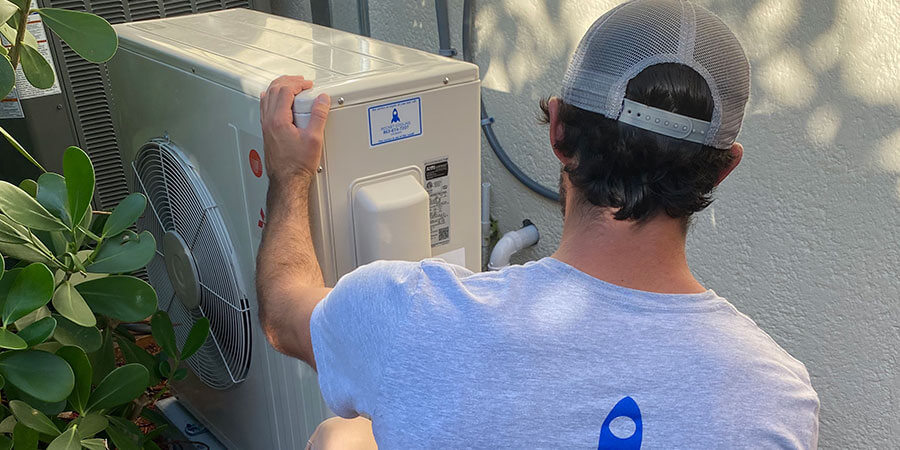 Ductless Mini-Split AC Repair in Treasure Coast, FL
Mini-split air conditioners are durable appliances that require minimal maintenance to operate in like-new condition. But if you find yourself needing to repair your ductless air conditioner, Rocket Cooling is here to rectify the problem. We're available around the clock for emergency ductless air conditioning repairs in Treasure Coast, FL.
Ductless Mini-Split AC Installation in Treasure Coast, FL
There are two types of ductless installations: a single-zone or multi-zone setup. In a single-zone ductless installation, one indoor air handler connects to one outdoor compressor via a small hole in the wall. Single-zone ductless AC systems work well in studio apartments, home additions and smaller offices. On the other hand, a multi-zone ductless installation involves connecting several indoor air handlers. Multi-zone ductless AC systems work well in larger properties, including homes and businesses. Here are the benefits of installing a single- or multi-zone ductless HVAC system:
Avoid wasting energy and money via leaky ductwork.
Don't pay to extend your current ductwork to cool new living spaces.
Stop cooling empty areas of your house to enjoy comfort in occupied rooms.
Allow everyone in the household to target their preferred room temperature.
Eliminate the need to pay for duct cleaning and repair services.
Lower your home's carbon footprint with less energy consumption.
Ductless Mini-Split AC Maintenance in Treasure Coast, FL
Whether it's for a ductless installation, repair or maintenance service, contacting us to complete the job will result in money-saving results. We're happy to help home and business owners in Treasure Coast, FL. Here's how doing so benefits you:
Carry the newest makes and models of mini-split AC systems available.
Offer free mini-split AC installation, repair and maintenance estimates.
Sell our systems at the best prices with long-term parts and labor warranties.
Send educated NATE-certified service technicians for your ductless service.
Foster a positive work environment so you always greet a friendly professional.
Stay updated on the latest procedures to ensure we provide quality work.
To schedule ductless air conditioning services in Treasure Coast, FL, contact Rocket Cooling today. We'll arrive in a well-stocked truck and exceed your expectations.
Our Latest News
Ensure Comfort and Coolness this Fall with these AC Tips
September 24, 2023
Read More
Our service is out of this world
Call us for same day service or click to make an appointment
100% Satisfaction Guaranteed
Schedule an Appointment