Indoor Air Quality Services and Products
for the Middle Keys including Marathon, Key Colony, & Duck Key Residents
Do you experience allergy-like symptoms when inside your home and feel better as soon as you step outside? This signifies that you're dealing with poor indoor air quality. Allowing particle pollutants to attack your respiratory system on a daily basis is determinantal to your overall health and quality of life. Rocket Cooling offers all the indoor air quality systems and services you need to get your IAQ under control. We carry the latest air-cleaning technologies with features designed to eliminate harmful contaminants. Let us help you fight the battles and war for better indoor air quality.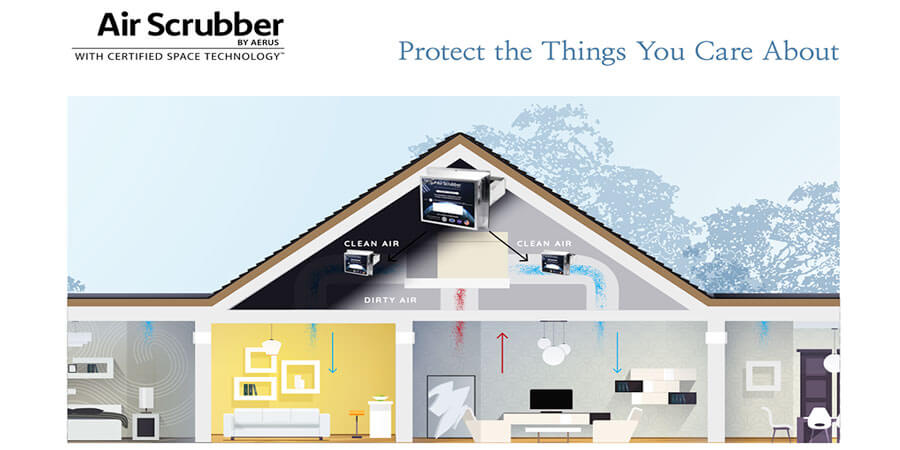 Air Purification and Filtration Experts in Marathon, FL
All types of particles can pollute your home, recirculating dozens of times per day as your air conditioner operates. If you notice excess dust, dirt and similar debris in your house, it's time to act. Rocket Cooling specializes in UV light installations. UV lights install within your HVAC system and work to kill microorganisms like bacteria. They can prevent microbial growth in your Marathon, FL, house and corrosion in your HVAC system.
Air Scrubber by Aerus Installation in Marathon, FL
Another indoor air quality device we carry is the Air Scrubber by Aerus. This fantastic indoor air quality solution can remove up to 99.99% of the allergens in your home's atmosphere. When you hire us to install this whole-home air cleaner in Marathon, FL, we'll dispatch a NATE-certified service technician who specializes in helping owners improve their indoor air quality. We follow the latest installation procedures to ensure your IAQ device operates effectively and safely throughout its service life.
Duct Cleaning Service Professionals in Marathon, FL
Most homeowners in Marathon, FL, forget to schedule duct cleaning service until there's an obvious problem with their HVAC system that warrants it. Duct cleaning and sanitizing help your HVAC system operate as efficiently as possible without breaking down. It also minimizes the number of particle pollutants in the indoor air. Rocket Cooling is happy to offer duct cleaning and sanitizing services to Marathon, FL, homeowners.
Rocket Cooling is ready to become your go-to air filtration and purification expert in Marathon, FL. Contact us to schedule a comprehensive IAQ consultation today. We'll be happy to inform you what products you need to clean your home's air supply.
Our Latest News
Ensure Comfort and Coolness this Fall with these AC Tips
September 24, 2023
Read More
Our service is out of this world
Call us for same day service or click to make an appointment
100% Satisfaction Guaranteed
Schedule an Appointment