Mini-Split AC Services
for the Middle Keys including Marathon, Key Colony, & Duck Key
Central air conditioners have long served homeowners in Marathon, FL. While most houses in the area still have this type of AC system, some are switching to ductless air conditioning. That's because ditching the ductwork is an energy-saving and cost-effective way to enjoy around-the-clock cooling. Rocket Cooling is available to become your go-to ductless service expert. Whether you're curious about installing a new mini-split air conditioner or need your current ductless system serviced, rest assured we're here to help. We're proud to provide an out-of-this-world customer service experience every time.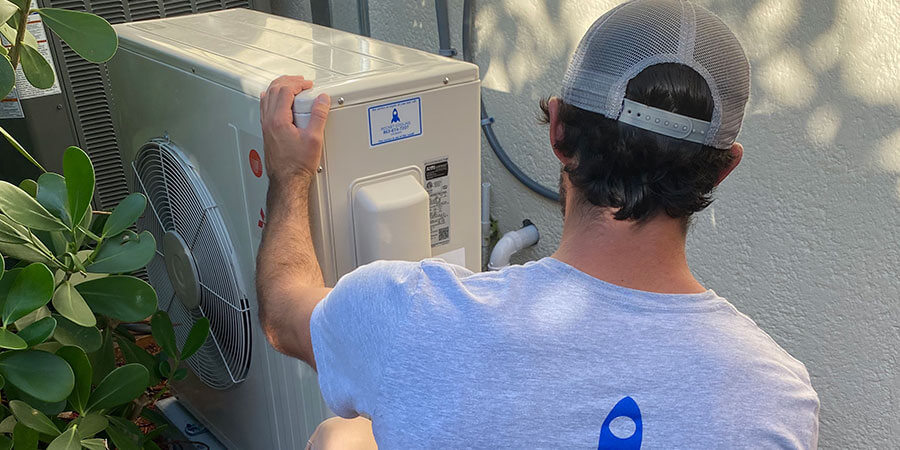 Single-Zone Ductless AC Installation in Marathon, FL
A single-zone ductless air conditioner has one indoor air handler and one outdoor compressor. Customers who purchase these systems usually install them in garage conversions, home additions, studio apartments or mother-in-law suites. Since ductless air conditioners are so easy to install, one of our NATE-certified service technicians can have yours running within the same day of visiting your home for an installation.
Multi-Zone Ductless AC Installation in Marathon, FL
When you install a multi-zone ductless air conditioning setup, you split your house into several climate control zones. Each zone contains a thermostat and offers customized temperatures for the occupant. For example, you can cool your living room without cooling the bedrooms or vice versa. Cooling your Marathon, FL, home this way helps you save energy by not having to cool the entire house to enjoy comfort in one area.
Mini-Split AC Repair and Maintenance in Marathon, FL
Do you need an HVAC contractor to service your mini-split AC system? We're the ductless repair and maintenance professionals you need to keep your system running in top-notch condition. Here's why Marathon, FL, customers hire Rocket Cooling:
Give our customers an out-of-this-world service experience from the start.
Send highly qualified NATE-certified service technicians to your home or business.
Sell the latest makes and models of ductless air conditioning equipment available.
Include long-term parts and labor warranties with our mini-split AC installations.
Offer 24/7 mini-split AC service in Marathon, Florida, for an extra charge.
Provide free mini-split AC installation, repair and maintenance estimates.
Foster a positive work environment to keep our employees happy.
Arrive in well-stocked trucks to minimize wait times during ductless repairs.
Follow the latest procedures to ensure customers receive the best services.
To schedule a ductless mini-split service in Marathon, FL, reach out to Rocket Cooling at your earliest convenience. We'll handle the request promptly with the utmost care.
Our Latest News
Ensure Comfort and Coolness this Fall with these AC Tips
September 24, 2023
Read More
Our service is out of this world
Call us for same day service or click to make an appointment
100% Satisfaction Guaranteed
Schedule an Appointment