Providing Air Conditioning Services Including Installation, Repair and Maintenance
to West Palm Beach, FL
---
Whether you need a new air conditioner installed or an old AC system repaired, put your faith in the team at Rocket Cooling. We'll dispatch a background-checked and trusted service technician to your home or business in West Palm Beach, FL, and we'll arrive in a well-stocked Mercedes Sprinter van so that you don't waste time waiting around. We stay updated on the latest procedures, ensuring your HVAC systems operate as they should throughout the year.
Communication is key to every job. We keep our customers alerted the second they book an appointment. We let you know when the technician is on their way, starting their job, completion, and at the end you can let us know how we are doing.
Special Financing Available
---
You enjoy walking into a cool and comfortable home during the hottest and most humid days in West Palm Beach, FL. To ensure that happens, you must operate an air conditioner that a professional installed correctly and maintains regularly. Rocket Cooling offers all the AC services you need to maximize energy savings and comfort. We also provide other essential HVAC and commercial refrigeration services to our customers.
Contact Us (Treasure Coast & West Palm Beach)
You must enable Billing on the Google Cloud Project at https://console.cloud.google.com/project/_/billing/enable Learn more at https://developers.google.com/maps/gmp-get-started
Air Conditioner Repair Service in West Palm Beach, FL
When you live in West Palm Beach, FL, you know how invaluable your air conditioner is to your quality of life. If your AC system starts showing signs of failure, schedule an air conditioner repair right away to avoid further damage that costs more to fix. We stay updated on the latest procedures to keep your AC system running effectively.
Duct Cleaning Service in West Palm Beach, FL
The ducts within your HVAC system in West Palm Beach, FL, carry conditioned air and deliver it into your living spaces. Without regular cleaning, they will collect dust, dirt and other particle pollutants, inhibiting airflow and worsening indoor air quality. When you invest in our duct cleaning service, you'll ensure your ducts work efficiently.
Commercial Refrigeration Service in West Palm Beach, FL
Do you operate a restaurant in West Palm Beach, FL? You depend on many appliances to ensure your business operates smoothly. We can help make sure they function as they should so that you avoid disruptions. We install and repair all types of commercial refrigeration equipment, including coolers, freezers and ice machines.
Keep your home feeling comfortable when the temperature outside is scorching. Contact Rocket Cooling to schedule an AC installation or an air conditioner repair in West Palm Beach, FL. We look forward to optimizing your indoor climate control.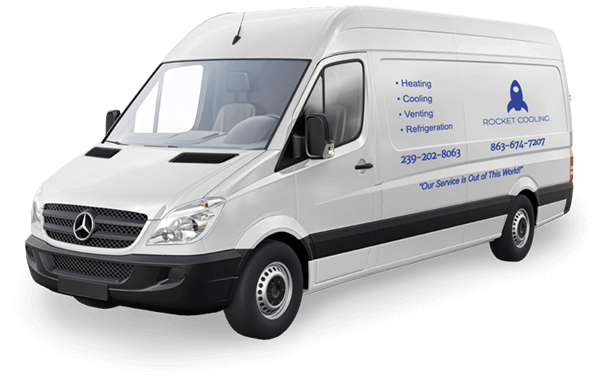 Speed to customer, there in hours not days
Background checked and trusted technicians
100% Satisfaction Guaranteed
Our service is out of this world
Call us for same day service or click to make an appointment
100% Satisfaction Guaranteed
Schedule an Appointment