Mini-Split AC Services
for Fort Myers
Whether you already own a ductless mini-split or you're thinking about buying one, rest assured Rocket Cooling provides all the services you need to get the most out of your system. Ductless air conditioning has grown in popularity in recent years among homeowners in Fort Myers, FL, because of its energy-saving and comfort-enhancing benefits. When you put your faith in our service technicians to install, repair or maintain your mini-split AC system, you'll receive out-of-this-world customer service. We're here to give you peace of mind and help you save as much money as possible.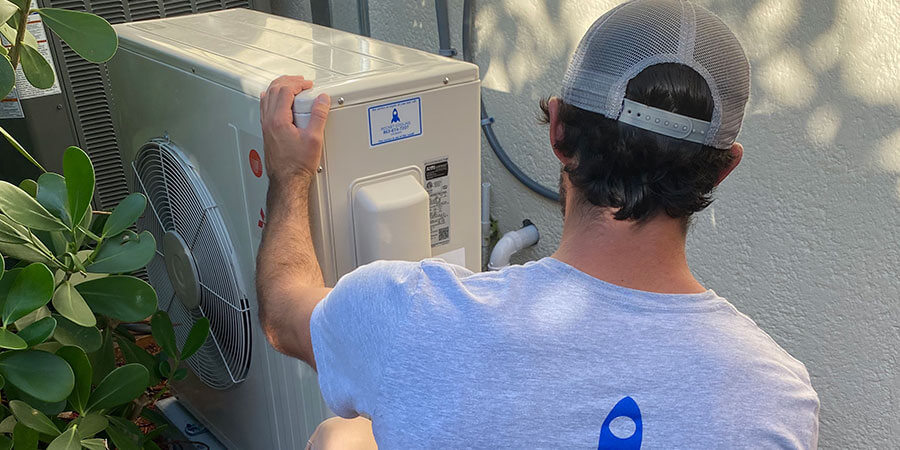 Single-Zone Ductless Air Conditioning in Fort Myers, FL
Are you building a new addition for your Fort Myers, FL, home? Or maybe you're converting a garage into a living space. Extending your central air conditioner's ductwork to accommodate the new room is expensive. It also increases your risk of wasting conditioned air in the extended area of ducts. Installing a single-zone ductless air conditioning system is an easy and inexpensive way to cool a small area. A service technician from Rocket Cooling can have yours running in as little as a few hours.
Multi-Zone Ductless Air Conditioning in Fort Myers, FL
Have you considered splitting your Fort Myers, FL, home into several temperature zones? With a multi-zone ductless installation, you can divide your house into eight separate climate control zones that each feature their own indoor air handler and thermostat. This setup allows you to cool one space in your home without cooling the rest of it. It also gives everyone in your household the opportunity to set their preferred temperature wherever they're sitting. Customized comfort helps you save money in the long run.
Mini-Split AC Repair and Maintenance in Fort Myers, FL
Do you need a mini-split AC repair in Fort Myers, FL? Rocket Cooling will dispatch a well-stocked truck and arrive promptly at your home or business. Here are some of the other benefits of hiring us to install, repair or maintain your ductless mini-split:
Sell the latest makes and models of ductless air conditioners available.
Every ductless installation includes long-term parts and labor warranties.
A service technician with NATE certification will complete your ductless service.
Offer 24/7 mini-split AC repair service in Fort Myers, FL, for an extra charge.
Provide free mini-split AC installation, repair and maintenance estimates.
Follow the best practices for installing and servicing your ductless mini-split.
To schedule a ductless mini-split installation or repair in Fort Myers, FL, contact Rocket Cooling. To ensure our service technicians serve you with a pleasant attitude, we foster a positive work environment that values their commitment to working hard.
Our Latest News
Ensure Comfort and Coolness this Fall with these AC Tips
September 24, 2023
Read More
Our service is out of this world
Call us for same day service or click to make an appointment
100% Satisfaction Guaranteed
Schedule an Appointment