Mini-Split AC Services
for the Upper Keys including Islamorada, Key Largo, Tavernier, and Ocean Reef
Are you building a new house in Tavernier, FL? Among the many things you'll consider for maximizing your family's comfort, how you'll cool your property will be at the top of the list. At Rocket Cooling, we carry the latest makes and models of HVAC equipment, including ductless air conditioning systems. Also known as mini-split air conditioners, ductless systems don't require ducts to deliver cool air into your living spaces. Our NATE-certified service technicians can assess your property and determine if a single- or multi-zone ductless air conditioning installation is the right choice for your comfort needs.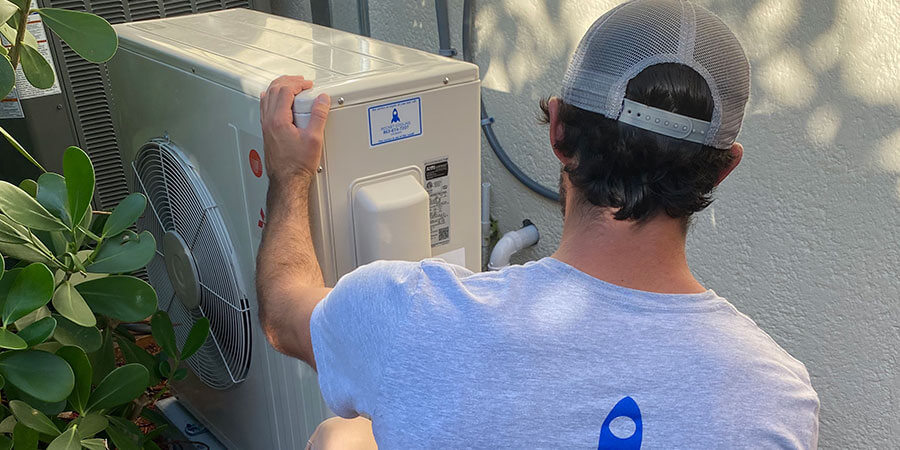 Mini-Split AC Installation in Tavernier, FL
When shopping for a ductless HVAC system, you have two options: a single- and multi-zone setup. A single-zone mini-split AC system involves the installation of one indoor air handler that connects to one outdoor compressor via a small hole in the wall. Single-zone ductless air conditioning installations operate efficiently in small areas like studio apartments, home additions and garage conversions. Our service technicians can have your mini-split AC installation in Tavernier, FL, operating in as little as a few hours.
If you own a large house or operate a large commercial facility, you should opt for a multi-zone ductless air conditioning installation. With a multi-zone setup, your service technician can install up to eight indoor air handlers rather than one. Each indoor air handler features a thermostat and provides cooling to the room or zone where you install it. A multi-zone mini-split AC installation helps you avoid cooling empty areas of your house and ensures everyone enjoys the temperature that makes them most comfortable.
24/7 Mini-Split AC Repair in Tavernier, FL
Ductless air conditioning systems are durable and can operate efficiently for decades with routine upkeep. To maximize their efficiency and longevity, you must schedule a mini-split AC repair immediately after noticing a problem with your system. Rocket Cooling is available 24/7 for ductless repair service in Tavernier, FL. We'll dispatch a service technician with NATE certification and a positive can-do attitude.
Mini-Split AC Maintenance in Tavernier, FL
When you need ductless installation, repair or maintenance services, trust a trained pro for the job. Here's why Tavernier, FL, homeowners choose Rocket Cooling:
Provide an out-of-this-world customer experience.
Offer free ductless mini-split installation, repair and maintenance estimates.
Sell the newest makes and models of ductless AC systems.
Our mini-split AC installations include long-term parts and labor warranties.
Arrive in well-stocked trucks to minimize our time in your house.
Follow the latest techniques for maximizing efficiency and comfort.
To schedule a ductless mini-split installation or repair in Tavernier, FL, contact Rocket Cooling today. You can put your faith in us to work hard and be honest.
Our Latest News
Ensure Comfort and Coolness this Fall with these AC Tips
September 24, 2023
Read More
Our service is out of this world
Call us for same day service or click to make an appointment
100% Satisfaction Guaranteed
Schedule an Appointment