Ductless AC Repair & Mini-Split Installation & Maintenance Services
in Fort Pierce, Port Saint Lucie, Stuart, Palm City, Jupiter, West Palm Beach, LaBelle,Fort Myers, Tavernier, Marathon FL & Surrounding Areas
Are you building a home addition and need a way to cool it? Or maybe you're converting a garage into a living space for a baby or your elderly parent. Installing a ductless air conditioner is an easy and inexpensive way to introduce indoor climate control to an area in your home that doesn't have ductwork. The service technicians at Rocket Cooling specialize in ductless installations, repairs and maintenance. You can count on us to provide you with an exceptional customer service experience.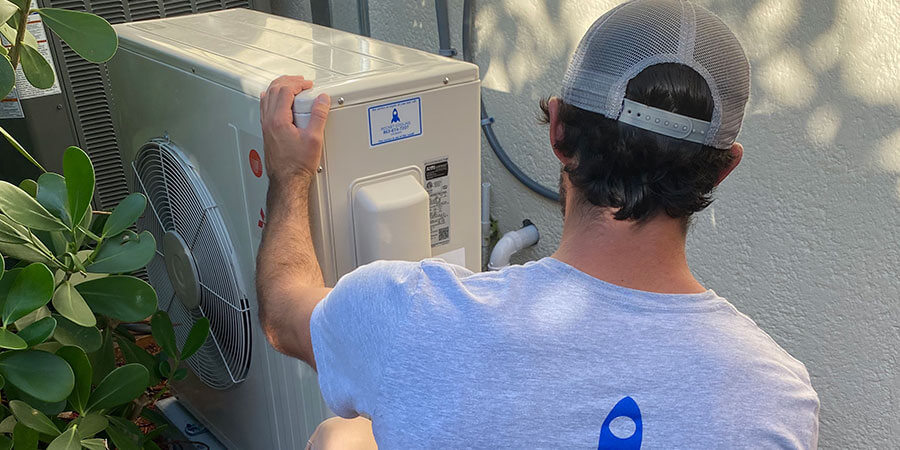 Ductless AC Installations
A single-zone ductless installation is perfect for new home additions, converted garages or small apartments. The cost of installing one ductless air conditioner is cheaper than extending your central HVAC system's ductwork to cool the space. If you want to split your large house into several climate control zones, a multi-zone ductless installation can help. Each indoor air handler comes with its own thermostat, so you can cool the bedroom at night without cooling the rest of the house. Rocket Cooling carries the newest makes and models of HVAC equipment, and we sell our products at the best prices in the area.
Ductless AC Repairs and Replacements
Ductless HVAC systems are durable pieces of HVAC equipment, and they rarely break down. All you have to do is clean the filter periodically and schedule maintenance regularly. But like all mechanical devices, they can experience problems and malfunction. When you hire us to repair your ductless mini-split, we'll dispatch background-checked and trusted service technicians. We stay updated on the latest procedures to keep your mini-split running well, and we arrive in a well-stocked truck.
Ductless AC Maintenance
Maintenance matters when it comes to caring for your heating and air conditioning equipment. Rocket Cooling provides all the preventive HVAC maintenance services you need to keep your ductless mini-split operating like new. We'll offer tips on how to maximize efficiency and protect your HVAC system from damage.
To schedule a ductless service, contact Rocket Cooling today. Our team of HVAC experts is standing by to help you choose the best indoor climate control system for you.
Our Latest News
Ensure Comfort and Coolness this Fall with these AC Tips
September 24, 2023
Read More
Our service is out of this world
Call us for same day service or click to make an appointment
100% Satisfaction Guaranteed
Schedule an Appointment