Indoor Air Quality Services and Products
for Fort Myers
Did you know the air inside your house can contain 100 times more pollutants than the air outside in Fort Myers, FL? Worrying about outdoor pollution doesn't matter if you allow harmful contaminants to multiply in your home's air supply. That's because most people spend the majority of their time indoors. At Rocket Cooling, we understand the adverse effects that poor indoor air quality can have on people, especially young children, elderly persons and those who already suffer from respiratory conditions. That's why we offer a range of IAQ systems and services to help our customers avoid the dangers.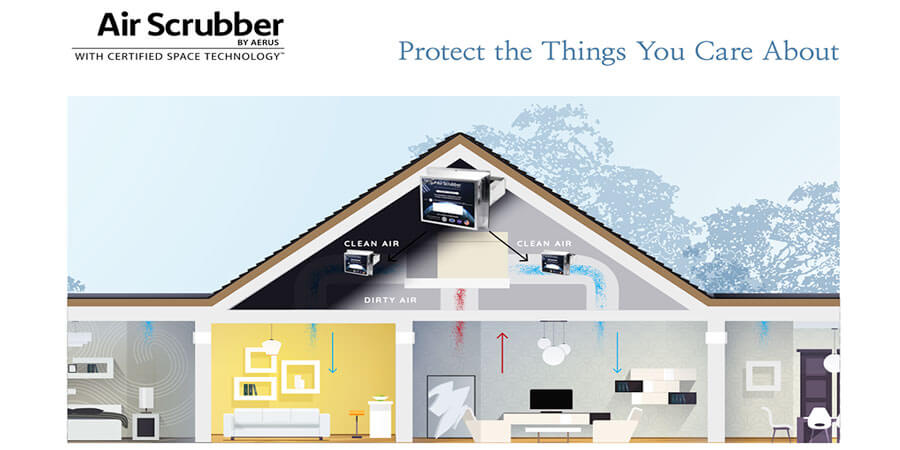 Poor Indoor Air Quality is Dangerous to Your Family's Health
A speck of dust that you can see is the least of your worries as it pertains to your indoor air quality. The worst contaminants to your health are invisible to the naked eye. While your air conditioner's filter can remove some of these particles, it doesn't remove the smallest. The first step to improving your indoor air quality in Fort Myers, FL, is to change your AC system's filter every month. The second is to invest in the right IAQ products.
Air-Cleaning Technologies for Homeowners in Fort Myers, FL
At Rocket Cooling, we offer several products that help reduce the number of contaminants in your house that can negatively impact your health. Our UV light installations install easily within your HVAC system and eliminate microorganisms like bacteria and microbial. Our whole-home air cleaners, including the Air Scrubber by Aerus, remove up to 99.99% of the particles circulating in your home's air supply. With the right combination of IAQ products, you can clean every corner and crevice of your indoor air quality. Rocket Cooling knows what homeowners in Fort Myers, FL, need to do it.
Duct Cleaning and Sanitizing Services in Fort Myers, FL
If you still operate an air conditioner with ducts, it's critical to have them professionally cleaned every few years. Otherwise, dirt, dust and other allergens will build up to the point of harming your indoor air quality and hurting your AC system. The NATE-certified service technicians at Rocket Cooling know how to complete thorough duct cleaning and sanitizing services. We'll ensure the ducts in your Fort Myers, FL, home shine like a diamond.
Act now to clean your indoor air supply and prevent particle pollutants from harming your family. Contact Rocket Cooling to schedule an IAQ consultation in Fort Myers, FL.
Our Latest News
Ensure Comfort and Coolness this Fall with these AC Tips
September 24, 2023
Read More
Our service is out of this world
Call us for same day service or click to make an appointment
100% Satisfaction Guaranteed
Schedule an Appointment