Air Conditioning Repair & Installation Services
for West Palm Beach
Staying cool and comfortable when the heat and humidity are high in West Palm Beach, FL, is difficult without effective air conditioning. At Rocket Cooling, we provide all the AC services you need to enjoy around-the-clock cooling for a minimal cost. Whether you need air conditioning installation or AC repair, we're here to guide you and address all your indoor comfort concerns. If you want to partner with an AC service company that gives customers an out-of-this-world experience, reach out to Rocket Cooling. Our service technicians will arrive at your home promptly and work with a positive attitude.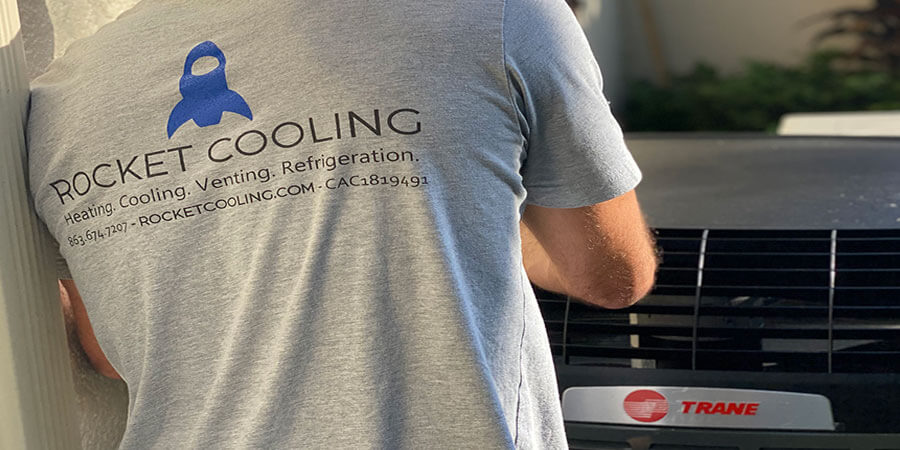 24/7 AC Repair Service in West Palm Beach, FL
Air conditioners are complex machines with many moving parts. It only takes one malfunctioning part to disrupt energy-efficient operation and cause discomfort. That's why it's critical to schedule an air conditioning repair in West Palm Beach, FL, as soon as you notice something is amiss. If your air conditioner is cycling frequently, blowing hot air or making loud noises, turn the system off and seek professional help. Rocket Cooling is available for 24/7 emergency AC repairs for an extra charge. We'll dispatch a highly trained and experienced NATE-certified service technician to your home or business.
Air Conditioning Installation in West Palm Beach, FL
Installing a new air conditioner isn't as easy as throwing the old system away and sliding in the replacement unit. It requires careful consideration to ensure the AC system you install matches your property's unique comfort requirements. Our service technicians follow a detailed step-by-step checklist when helping you select and install your air conditioner. We'll perform a precise cooling load calculation and determine the best SEER rating for your AC system. The trick is not to install an undersized or oversized air conditioner or pay more for efficiency you don't necessarily need. Rocket Cooling carries the latest makes and models of ducted and ductless air conditioning equipment.
Choose Rocket Cooling for Your Air Conditioning Service
Hiring a reputable HVAC contractor to install or repair your air conditioner is vital to saving energy and money. Rocket Cooling is proud to become the go-to AC service company for homeowners in West Palm Beach, FL. Here are a few other benefits of doing so:
Sell products at low prices with long-term parts and labor warranties.
Offer 24/7 service in West Palm Beach, FL, for an extra charge.
Foster a positive work environment to get the best from our employees.
Offer free AC installation, repair and maintenance estimates in West Palm Beach.
Arrive promptly in well-stocked trucks so we don't waste your time.
Stay updated on the latest practices to keep your AC system operating efficiently.
To schedule heating and air conditioning services in West Palm Beach, FL, contact Rocket Cooling. We'll handle your air conditioning installation or repair with care.
Our Latest News
Ensure Comfort and Coolness this Fall with these AC Tips
September 24, 2023
Read More
Our service is out of this world
Call us for same day service or click to make an appointment
100% Satisfaction Guaranteed
Schedule an Appointment