Mini-Split AC Services
for West Palm Beach
Most homes in West Palm Beach, FL, use air conditioners that deliver cool air into the living spaces via a series of ducts. But when it's time to replace your AC system, ditching the ductwork and installing ductless air conditioning might be the smartest choice. That's because mini-split air conditioners don't waste energy via leaks ducts or require as much maintenance as traditional central AC systems. At Rocket Cooling, we're ductless air conditioning installation, repair and maintenance experts. Founded in 2018, we're a young and ambitious company ready to give you the best customer experience possible.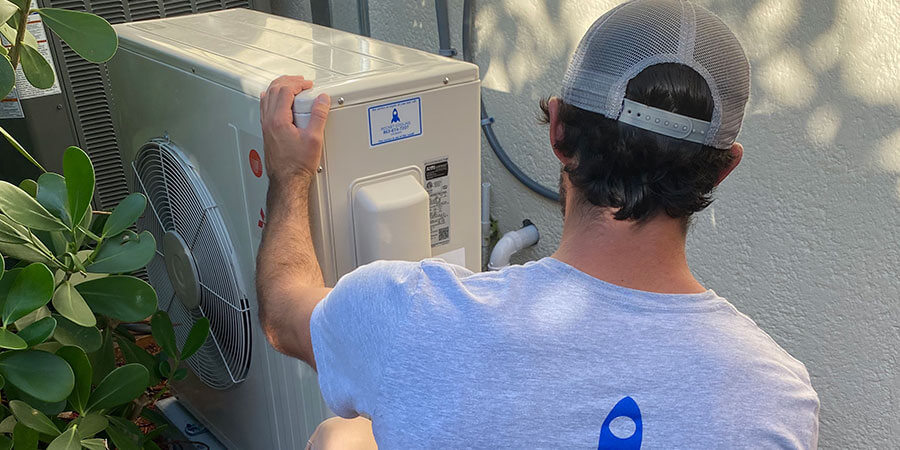 Mini-Split AC Installation in West Palm Beach, FL
Ductless HVAC systems have many applications for homeowners in West Palm Beach, FL. You can install a single-zone ductless air conditioner in a small space for direct energy-efficient cooling. Single-zone mini-splits operate efficiently in home additions, garage conversions, studio apartments and small offices. Installing a single-zone ductless air conditioner is easy; your service technician can have it running within a few hours.
Multi-zone ductless air conditioning is designed for large houses and commercial properties. With this setup, you can connect up to eight indoor air handlers to one outdoor compressor. Each indoor air handler supplies cooling to a specified zone within the property and includes its own thermostat. With multi-zone ductless air conditioning, you'll stop cooling empty areas of your home to enjoy comfort in occupied rooms. What's more, everyone will be able to set their preferred temperature where they're sitting without affecting others in the household. Rocket Cooling is your ductless installation expert.
Mini-Split AC Repair in West Palm Beach, FL
Mini-split AC systems are durable machines that last a long time with minimal maintenance. But if your ductless air conditioner stops cooling or exhibits other strange signs of trouble, don't hesitate to schedule a mini-split AC repair immediately. Rocket Cooling is available 24/7 for ductless air conditioning repairs in West Palm Beach, FL.
Mini-Split AC Maintenance in West Palm Beach, FL
To keep your mini-split AC system running in like-new condition, wash its filter every month. Remember to also schedule preventive maintenance at least once per year. Here's why home and business owners in West Palm Beach, FL, choose our ductless services:
Offer an out-of-this-world customer service experience.
Carry the latest makes and models of ductless air conditioners.
Provide long-term parts and labor warranties for our mini-split AC systems.
Dispatch service technicians who possess NATE certification.
Available for free ductless installation, repair and maintenance estimates.
Follow the latest mini-split AC installation and repair procedures.
To schedule a mini-split AC installation or repair in West Palm Beach, FL, contact Rocket Cooling today. We look forward to helping you ditch the inefficient ducts.
Our Latest News
Ensure Comfort and Coolness this Fall with these AC Tips
September 24, 2023
Read More
Our service is out of this world
Call us for same day service or click to make an appointment
100% Satisfaction Guaranteed
Schedule an Appointment